Vienna-based artist Klaus Schafler is dealing with phenomena and imagination of transition in different geo-political landscapes and sub-urban situations, with a specific research focus on shifting terrritories and ecologies of our times. He is working in various formats including site-specific installations, performative interventions, and staged lectures.
Having a background in arts, political science and economy, he is also the artistic director of Kunsthalle Exnergasse in Vienna since September 2022, was fellow resident with LMCC, Lower Manhattan Cultural Council, New York, was co-curator of artist collective K.U.L.M., and visiting critic at ART OMI, published the book ´Hacking the Planet and Future`, was awarded an art-science grant by the Austrian Ministry for Arts and Culture,  and co-initiated the collaborative project 'Grammar of Urgencies', currently researching on ´Fleeting Territories´.
Select Exhibitions and Projects:
2019 2020 2021
Please visit the News page …
2018
DAL BAHAR MADWARHA, The island is what the sea surrounds
with Fleeting Territories, a temporary collective by Austrian artists Sabine Bitter, Helmut Weber and Klaus Schafler and Swedish researcher Jonatan Habib Enquist.
Valetta 2018, Exhibition European Cultural Capital, Malta
Creative Climate
Performing lecture at symposium, Birkbeck Centre for Contemporary Theatre, Birkbeck Institute for the Humanities, University of London
PAPIER.KARTON.PAPPE.
30.June 2018, 7 pm
Opening of exhibition
K3 Pischelsdorf, A
///////
FACTORY DAY
12.May 2018
Symposium, with WUK
Lviv, Ukraine
2017
Fleeting Territories
Exhibition Kunstraum Niederösterreich, Vienna  (cur.)
Climate Control
Performance, seminar and book launch with Ellie Ga, Klaus Schafler and Sverker Sörlin, Dome of Visions, Stockholm
The Future of Demonstration
NAURUTICA
REAKTOR, Vienna
Fleeting Territories
Exercise by Grammar of Urgencies at Albern Harbour, Vienna

2016
urbanize!, Housing the Many – Stadt der Vielen
Rothneusiedl
Schallwirkungen auf Mensch und Tier
Kunsthalle Exnergasse, Vienna
polar
Politik I Theorie I Alltag
Series of pictures published in the magazine polar # 20: Expertokratie
Contributions by Olafur Eliasson, Manfred Holtfrerich, Bethan Huws, Klaus Schafler, invited by Raimar Stange
Spring issue, Berlin 2016
Reisen Zeichnen
curated by S. Hörtner, kunsthaus muerz, Mürzzuschlag
Funkenflug 4
by Celle – in reference to Richard Buckminster Fuller, Künstlerhaus Vienna
It's (about) politics
Performing the emancipatory potential of cultural practice,
Trans Europe Halles meeting, WUK, Vienna
ANTHROPOLOGY, WEATHER & CLIMATE CHANGE
27-29 May 2016, Conference
Making Climates Present: The Atmospheric Imaginaries of Klaus Schafler and Karolina Sobecka
Paper presentation by David Stentiford (Stanford University)
British Museum, London
2015
LANDSCAPE IN MOTION
Cinematic Visions of an Uncertain Tomorrow
Kunsthaus Graz
Exhibition, in cooperation with Camera Austria, Diagonale 2015 and the Austrian Film Museum.
HYPERNATURAL LANDSCAPES OF THE ANTHROPOCENE
Landscape in the arts and cultural sciences, Conference
A cooperation between Karl Franzens University Graz, Universalmuseum Joanneum Kunsthaus Graz and the School of Visual Arts NYC
RENEWABLE FUTURES
Konferenz, Lecture-Performance mit M. Richter, RIXC at Art Research Lab of Liepaja University, Stockholm School of Economics and Latvian National Library, Riga
SAVING THE WORLD… FROM A GESAMTKUNSTWERK:
THE ART OF STAGING SITUATIONS OF REAL TRANSFORMATIONS
Ovidiu Tichindeleanu in Conversation with Klaus Schafler
IDEA arts & society, Issue # 46, 2015
[download PDF including images]
MISSION W — Skulptur im Wienerwald
Jubiläumswarte, Vienna
OSTRALE´015
Dresden
baustelle land. DER FILM
Haus der Architektur, HDA im Palais Thinnfeld / Graz
NOVA
Nuovo Opificio Vaccari per le Arti
Santo Stefano di Magra / La Spezia – Italia
THERE ARE SOME THINGS WE NEED TO TALK ABOUT
Ingeborg Strobl calls Klaus Schafler
VBKÖ, Vienna
K.U.L.M. MARKIERUNGEN
ORF Landesstudio Steiermark – Funkhausgalerie, Graz
Workshop International Organizations
Dansehallerne, Copenhagen
2014
INFORMAL COMMON GROUNDS
La città autoprodotta / the self produced city
A project by S.M.U.R. in collaboration with Teatro Valle Occupato and Metropoliz, Rome

lets's talk about work honey!
with Klaus Schafler and Christian Teckert
lesSOUTERRAINs, Vienna
HALFTIME IN COOLING JACKETS
The Shed Space, Brooklyn, NY
RENEWABLE FUTURES
Goethe Institute Riga, Liepaja University's Art Research Lab, Latvia
VorOrt
Forum Stadtpark, Graz
K.U.L.M. Mitteilungen 2
Joanneumsviertel Auditorium, Graz
K3, Pischelsdorf /Stmk
2013
Maldives Pavilion
55. Biennale di Venezia
Gervasuti Foundation, Venice
SELF MADE URBANISM ROME
nGbK, Berlin
MASSNAHMEN ZUR RETTUNG DER WELT _ TEIL 4
<rotor>, Graz
Projekt 45: Klaus Schafler: Halbzeit in Kühljacken
k48 – Offensive für zeitgenössische Wahrnehmung, Vienna
PAST TENSE, FUTURE IMPERFECT
Art Share LA, Los Angeles
"WE DON´T NEED A WEATHERMAN"
Panel and book launch
Secession, Vienna
CONTINGENT MOVEMENTS SYMPOSIUM
Historical Archives of Contemporary Arts (ASAC) of the Venice Biennale, Boat trip to the Venetian Lagoons
Maldives Pavilion, 55.Venice Biennale
An exhibition which comes and goes as it pleases
(collaboration with Dubbin & Davidson)
Et al., San Francisco
BORDERLINE
Book launch, Kunst im Öffentlichen Raum Steiermark
RONDO, Graz
HACKING THE PLANET AND FUTURE
Publication by Klaus Schafler, 2013, Folio [german/english]
DIVERSITÄT (Vielfalt)
K.U.L.M. Akademie, K.U.L.M.erde 2013-2015
K3 Pischelsdorf /Stmk., A
GEMEINSCHAFTLICHE RÄUME
Kunsthalle Feldbach, HTBLVA Graz-Ortweinschule, …
JOAN OF ART – towards a free education
Response to Environmental Crisis 2
2012
Cooling Station, Regionale12, Murau, Krakautal
Borderline, European Capital of Culture, Maribor
Approaching Transience Part II ,  Karlsplatz 2, Vienna
aufhören I, K.U.L.M. / K3, Pischelsdorf
JAUS, Los Angeles
URBAN DREAMS, Art Today Association, Center for Contemporary Art, Plovdiv
2011
Space for Art and Industry, New York
Hacking Kulmland, Main Square Pischelsdorf
NANO11, Academy of Science, Chisinau
Johnson Design Center, Parsons, The New School, New York
will be updated soon…
2010
The Art of Story Telling performance and film screenings in the Playroom, curated by The Cutting Room, Nottingham Playhouse, Nottingham
ASAP Austro Sino Arts Program: da bao: organized by Karel Dudesek, Anni Art, 798 Art District, Beijing
Chisinau_Art & Research in Public Sphere: conference and interventions, curated by Stefan Rusu, KSA:K Center for Contemporary Art, Chisinau, Moldova
Waidhofen/Ybbs – architekturbus 10 video-screening in the frame of "Bauen im Naturpark Südsteirisches Weinland", meeting invited by Landesbaudirektion Steiermark in co-operation with baustelle land, Silberberg, Leibnitz
RELIQTE: curated by Johannes Rauchenberger, Kulturzentrum bei den Minoriten, Graz
Tisch im Raum invites HUNGER: with A. Löbel and L. Morawetz / Kunsthalle Exnergasse, intervention at Eating the Universe, Galerie im Taxispalais, Innsbruck
Ohne Gnade: invited by KAVN, Galerie Lisi Hämmerle, Bregenz
Wanted-Found: curated by Erwin Talker, Galerie Kon-temporär, Graz
Sound Design for Future Films: collaboration with Melissa Dubbin & Aaron S. Davidson, Wexner Center for the Arts, Columbus, Ohio
New Times, New Models: TEH conference at Pekarna, Maribor
K.U.L.M. Akademiepaket: KSG, Graz
2009
28th BIENNIAL OF GRAPHIC ARTS: curated by Gülsen Bal & Alenka Gregoric, Petja Grafenauer, Jadranka Ljubicic and Tadej Pogacar; Ljubljana
AIOP / art in odd places: guest curated by Erin Donnelly and Radhika Subramaniam; 14th Street, New York
K.U.L.M. Gegen/Teile: K3 Pischelsdorf
OHNE GNADE: invited by KAVN; at kunst.wirt.schaft, Graz ; Purpur Architektur + CastYourArt, Vienna ; The Absence of Art, Berlin ; (2010) Museum für Quellenkultur, Klein St. Paul
ViennArt 2009 / eop: curated by Lucas Gehrmann and Günther Oberhollenzer; MUSA, Museum auf Abruf, Vienna
Sea Level: conference, Pushkinskaya 10 / Manege, St. Petersburg
SCHUBUMKEHR / THRUST REVERSAL – Arnold Reinisch, Klaus Schafler: curated by Johannes Rauchenberger, MINORITEN GALLERIES Graz
REWIND, FAST FORWARD: curated by Günther Holler-Schuster, videoart from the collection from 1970 until today, Neue Galerie Graz
2008
Chinese Biennial: curated by Koan Jeff Baysa and Pan Xing Lei, KuArt Center, Beijing
2050 Prishtina: Stacion Center for Contemporary Arts, Prishtina, Kosovo
Sound Design for Future Films: Melissa Dubbin & Aaron S. Davidson in collaboration with Oskar Aglert, Lisa K. Blatt, Aideen Barry, Kate Gilmore, Klara Hobza, Gabriel Lester, Melik Ohanian, Klaus Schafler and Jackie Sumell, Moderna Museet, Stockholm
ARTmART: Kuenstlerhaus Vienna
visiting critic: at International artist residency, Art Omi, Ghent, New York
Das Ganze und seine Gegenteile / K.U.L.M.: symposium and exhibition, Kulmlandhalle Rohrbach
Field Trip curated by Radmila Iva Jankovic and Marc Ganzglass, PM Gallery / HDLU Dom, Zagreb
2007
Yokohama Boogie. Under the Influence: curated by Koan Jeff Baysa, ZAIM, Yokohama
D21 Salon: D21 Kunstraum Leipzig
Moving Pictures: Screening at LMCC open studio weekend, 120 Broadway, New York
ARTmART: Kuenstlerhaus Vienna
Excuse me, you have art in your teeth: Pocket Utopia, New York
work in progress: Lower Manhattan Cultural Council open studios, New York
K.U.L.M. Kunst als Lehre – Kunst/Leere/Räume: Academy of Fine Arts, Munich , Kunsthaus Weiz
Video as Urban Condition. Project exploring how video shapes urban experience: Video-pool prize winners(draw): 135 Anca Daucikova, 171 Klaus Schafler, 204 Perpetual Art Machine [PAM] collective
Richard Frankenberger / Too far. Positionen aus der Vorstadt: curated by Klaus Schafler, Minoriten Galleries, Graz
ENCC Second European Project Fair of Cultural Centres: Panel statement, Riga Congress Centre, Riga
2006
Tankstadt 2050: FIT, Free International Tankstation, Berlin
October Discussions: WUKPOL Group, WUK Courtyard, Vienna
Peripheral Structures: with K.U.L.M., Kunsthalle Feldbach , steirischer herbst 06
photo_graz 06: ESC im labor, Graz
2005
Vorstadt / Suburbia: Exhibition with K.U.L.M., K3 Pischelsdorf , steirischer herbst 05
Bound_less: Installation Jan Christensen, Stenersenmuseet, Oslo
Mut zur Q.: baustelle land / Chamber of Architects, Passail
2004
Exhibition of the Support Prize for Contemporary Fine Art Styria: Neue Galerie Graz , Curator: Dirk Snauwaert, Lyon / Brüssel [Awarded]
K.U.L.M. Lustwandeln: Museum of Contemporary Art Vienna, MAK NITE; Wolkersdorf Castle; Wiener Salon/Nelsons Vienna , Attems Palace Graz; K3 Pischelsdorf; University of Klagenfurt, Supplement to Der Standard; steirischer herbst 04
2003
Piterart: Festival for New Technologies; Ohta Exhibition Hall, St. Petersburg
operation figurini: Karmelitermarkt, Viktor Adler Markt, Meidlingermarkt, Vienna
EXPORT, Kunst abseits vom Netz KAVN: Exhibition Space of the Moscow District, St. Petersburg
NOMADIN: B54 and Dom im Schlossberg/Graz ; STADT_LAND_KUNST Graz 2003, European Cultural Capital
K.U.L.M. Academy: K3 Pischelsdorf, celery's Graz (not.tour.no Graz Art Night); Supplement to Kleine Zeitung; steirischer herbst 03
temporary construction sites: Diploma Project, Academy of Fine Arts, Semperdepot, Vienna
2002
baustelle land: Votiv Kino, Vienna
Gwhsg: Forum Stadtpark, Graz
K.U.L.M.ination: Kunsthalle Exnergasse, Vienna; K3, Pischelsdorf
2001
Marko Lipus, Klaus Schafler: Pavel House, Bad Radkersburg
[dichroscopic gloss]: Semperdepot/Artist Studios of the Academy of Fine Arts, Vienna
K.U.L.M. Farbe bekennen: K3 Pischelsdorf , steirischer herbst
baustelle land: K(ulturstock)3, Pischelsdorf, steirischer herbst 01
faktor p: Salon Lady Chutney, Vienna
2. Austrian Conference on Wealth: Semperdepot, Vienna
"Machen Sie mir dieses Land wieder": KIBLA Multimedia Center, Maribor , steirischer herbst 01
2000
kunst hautnah: Künstlerhaus, Vienna
loop: MAG11/com_unit, temporary Porgy&Bess, Museumsquartier, Vienna
K.U.L.M. continues: K3 Pischelsdorf
1999
Zebra for Zebra: Kunstfenster Harnisch, Graz; Charity in Minoriten Cultural Center, Graz
K.U.L.M. Feuer/Fire: Rasthaus at B54 and K3 Pischelsdorf , Video on ORF "kunststücke" (television)
1998
K.U.L.M.: Kunstverein Schloß Plön / Kiel
K.U.L.M. Luft/Air: K3 Pischelsdorf
1997
ident.: Urania Photo Gallery Graz; Week of European Culture Lwiw/Lemberg
K.U.L.M. Erde/Earth: public space / area of Kulm and K3 Pischelsdorf
raum & transformation: K3 Pischelsdorf; Wismar Art College
1996
Grenzräume: Der Retzhof, Leibnitz (A), Austrian Embassy in Cracow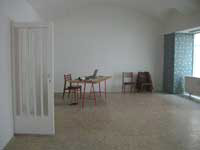 Studio in Vienna, 2008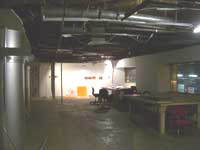 Studio in New York, 2007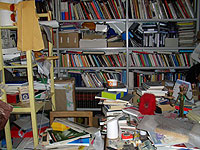 Studio in Vienna, 2006